THE COLLECTION
The Vision living area encompasses Art Déco vibes mingled with more refined, avant-garde design. The project is born thanks to modern technologies, combined with skillful craftsmanship, characterized by a refined total look. The furniture's shapes jointly the refined materials express elegance as a magical rendezvous of design and mastery.
This Collection is characterized by a linear and contemporary design with an emphasis on polyester lacquer. The structures and details in black nickel steel represent a synthetic style, with essential shapes. Indian Calacatta Marble for the tops and grey Nubuck for the upholstered furniture and fronts complete the refined combination of materials on display.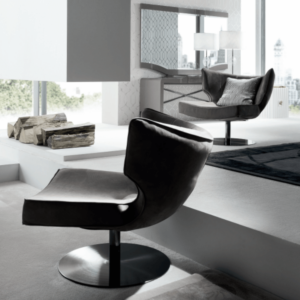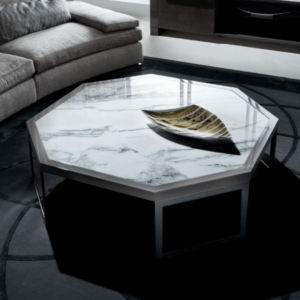 LIVING
In the living area you can find a selection of fine furniture: the Swing Sofa, with a symmetrical slender design and a worked backrest, which has a curved shape that embraces the welcoming seat; the Octagonal Cocktail Table with top in marble and high gloss polyester. Moreover, great attention has been paid to refined accessories such as Murano glass lamps and ceramic vases, with details in 24k gold finish.
---