Giorgio Collection, a solid reality that has been handed down for generation, guarantees excellence in all its collections thanks to constant control of every stage of production. "We know what we do and what we propose. This is our family." Its strength is due to the excellent quality of the product, obtained thanks to precise and careful processing of the materials. The brand expresses its uniqueness by guaranteeing a certificate of eternal quality on all collections.

THE GALVANIC PROCESSING
The furniture are embellished with gold chromed stainless steel details, obtained by galvanic metal working. The galvanic technique allows the steel to be covered with a layer of precious metal using electrolytic deposition. This process also enables to improve certain characteristics of the manufactured article, such as corrosion resistance or its optical properties, and obtain a pleasant decorative effect.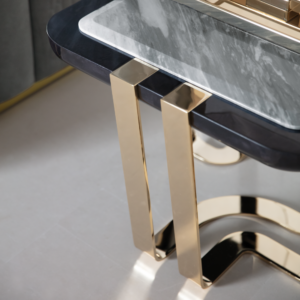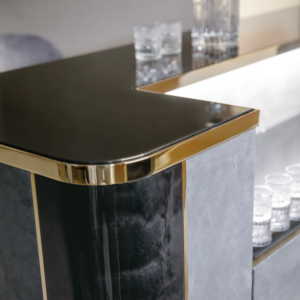 THE PROCESSING OF NUBUCK LEATHER
The Nubuck, a durable and long-lasting material, naturally water resistant, is obtained from a fine workmanship of genuine leather, the flagship of the luxury furniture industry. Thanks to the special processing of the most precious part of leather, an elegant and refined effect is obtained, which allows to enhance the soft appearance and at the same time obtain a soft layer typical of Nubuck.
Thanks to new special polymeric agents, that must be applied to the product, the efficiency is improved and it's also reduced the amount of water that the tannery needs to treat the leather. This technology makes possibile to optimise the carbon footprint, the amount of greenhouse gas emissions generated over the entire life cycle of a product.