The Infinity modular sofa is the perfect solution for creating a functional space that can meet any kind of needs, ensuring maximum comfort and absolute beauty. The extreme simplicity of the Infinity sofa design is embellished by refined materials and unique details that highlight the tailoring and craftsmanship work.
Its structure is composed of various modules: central elements, corner elements, ottomans, all of them are interchangeable and can be assembled together. Each module has seats and sides with double stitching in polyurethane foam covered in goose down. The base is made of stainless steel with a 24k gold chromed finish.
The cozy and soft design, given by the capitonnè quilting of the seats and the large back cushions, can be embellished with Makorè mahogany wood complements with a glossy polyester finish, like the end and side sofa tables. The sofa covering is available in top-quality leather, nubuck leather, velvet or suede fabric, which can be matched in color and tissue with the decorative cushions.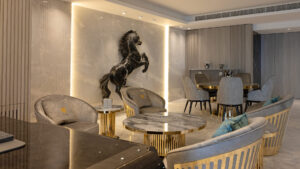 We are delighted to introduce you to our exclusive residential project: a luxury penthouse in one of Riyadh most exclusive area, where Infinity and Charisma collections are the unquestioned protagonists.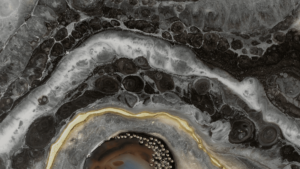 In the world of luxury design, details make the difference. Paintings are prestigious elements, statements of culture and sophistication that catch the eye and celebrates excellence. Giorgio Collection believes in the inspiring power of art and is proud to introduce the extraordinary works of Nadezhda Olefir to its selection of fine arts.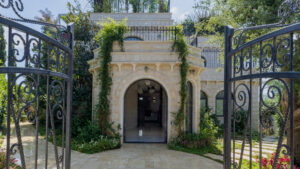 Giorgio Collection furnishes the most prestigious villas around the world with the quality and style of its products. Skilful combinations of elements from our iconic collections are the protagonists of this bespoke project: from the indoor to the outdoor spaces, each settings is embellished with the unique design and striking shapes of our creations.