We are pleased to show you our recently realized project in Dubai: it is a luxury private Villa in one of the most beautiful area of the wonderful city of Dubai. Our local Interior partner has set-up various ambients of this villa with the furniture of our new collections Charisma and Infinity: the Infinity sectional sofa of the TV room, that offers comfort and infinite space, made with the precious Nubuk leather; the rectangular cocktail table with frames in Black Bubinga, is combined with the refined Charisma Sofa, an elegant combination of comfort and luxury for those who like to perceive quality, caressing it with their hands.
The Black Bubinga African wood gives all the rooms enormous personality, establishing an exquisite elegance. The outstanding wood craftsmanship of Giorgio Collection emerges in Charisma's bold design and manufacturing details, an expression of true Made in Italy artisan skill.
Every element has been selected to stay in complete harmony with each other, enhancing the elegance and charm of this amazing Villa.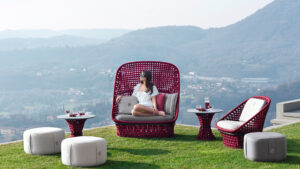 The luxurious design of Giorgio Collection has been combined with comfort and functionality in order to create Dune: a collection specifically conceived to get into symbiosis with outdoor spaces and nature.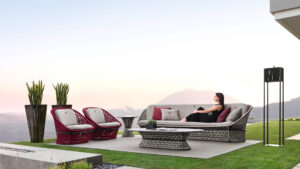 Dune is our latest outdoor collection presented at Salone del Mobile. Designed by Castello Lagravinese Studio, it has been conceived to extend and decline our concept of luxury furniture to the outdoor environment.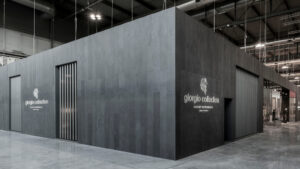 During the 61st edition of Salone del Mobile in Milan, Giorgio Collection presented two new collections: Moonlight indoor and Dune outdoor.