Dune is our latest outdoor collection presented at Salone del Mobile. Designed by Castello Lagravinese Studio, it has been conceived to extend and decline our concept of luxury furniture to the outdoor environment. The products that make up this collection are realized combining elegance, craftsmanship and comfortability. Special attention was given to the choice of high quality materials, ideal to ensure durability and resistance to external agents. The Dune chairs and sofas allow you to comfortably enjoy the outdoor spaces, enhancing our elegant and iconic design. The main material of these furniture is the woven cordage, available in three different colors: grey, black and amaranth. Cocktail tables are functional elements that make the outside a convivial space. Dune cocktail tables are made unique by the suggestive tones of CARDOSO, a natural italian stone characterized by its light and dark veins. All the collection's elements includes a range of technical textile leathers and fabrics, specifically selected to preserve their quality and beauty. Dune is the best solution to experience your luxury outdoors.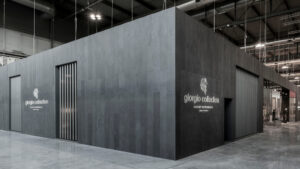 During the 61st edition of Salone del Mobile in Milan, Giorgio Collection presented two new collections: Moonlight indoor and Dune outdoor.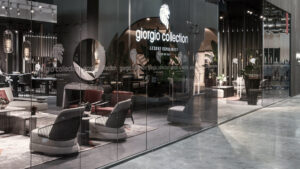 Giorgio Collection has been participating at Salone del Mobile since the first edition, always proposing the best of Made in Italy design and innovative products. Protagonists of this year's exhibition were the new Moonlight and Dune and the most iconic collections of the brand.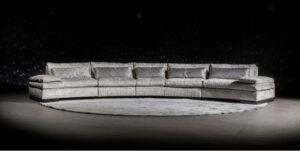 The modular sofa from the Vision collection is composed of central, lateral, and ottoman modules, all fully upholstered in first quality leather, nubuck leather, velvet, or suede fabric.