Moonlight bedroom expresses the perfect combination of fine materials, attention to detail and Italian craftsmanship, values that have always distinguished every Giorgio Collection products.
Moonlight bed stands out for its modern attitude and its impressive geometries, resulting in a welcoming and suggestive atmosphere. The headboard is a statement of contemporary design, made in precious Tasmanian curly Eucalyptus veneer with inserted quilted upholstery. The same headboard pattern also characterizes Moonlight bench, an exclusive and versatile piece that creates with its details a fascinating interplay of lines.
The night table, equipped with two drawers, is a wooden masterpiece, featuring symmetrical shapes and sleek personality.
Moonlight dresser combines perfectly functionality, sophistication and first quality materials. Crafted from wood, its sculptural design fits naturally into the bedroom, while the stainless steel base and handles result in elegant and exquisite finishes.
A luxury bedroom deserves an intimate corner dedicated to personal care. Moonlight vanity desk satisfies this need through a modern and distinctive style, emphasized by the glossy polyester finish. Stainless steel details enrich its curved legs, while the velvet lined drawer accommodates your cherished items with the utmost care.
Moonlight ottoman is a statement of flair, available in different types of upholstery: a functional and distinctive element that creates an enchanting atmosphere.
Moonlight bedroom also proposes a sophisticated seating area, ideal for satisfying the most discerning tastes thanks to the occasional swivel chairs, allowing you to relax embracing timeless luxury.
Their quilted backs, embellished with Giorgio Collection logo, express the excellence of Made in Italy and the attention to details that defines each of our creations .
Moonlight side table is a furniture piece that captures the essence of contemporary design, with its striking geometry base matched with top in inlaid Tasmanian curly Eucaliptus veneer.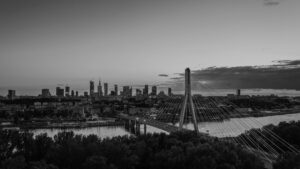 We are delighted to unveil an exquisite private project in Warsaw. Giorgio Collection's luxury meets the design intuitions of Magdalena Wierzbicka to furnish a prestigious villa, where every details speak the language of refinement.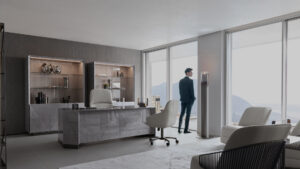 Moonlight office stands out for its exclusive furniture, characterized by a clean, contemporary design and balanced geometries.
The presidential desk, crafted with inlaid tasmanian curly eucalyptus veneer with high gloss polyester finish, provides with its refined top and drawers on each side a functional and ample workspace.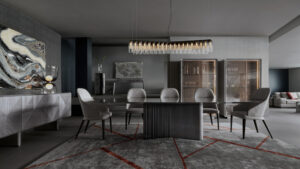 Moonlight dining room is the perfect symphony of refinement, precious materials and elegance. It is made up of a selection of furniture designed to emphasise the crucial role of dining spaces in luxury homes, thanks to its unique, contemporary style.