Moonlight collection is our latest masterpiece designed in collaboration with Castello Lagravinese Studio. It is made up of more than 100 products, conceived to combine uniqueness, modern design and sophistication. With its contemporary and refined total look, Moonlight living area captures the essence of innovative luxury, allowing you to relax embracing timeless and exclusive design. At the heart of Moonlight's creations lies precious materials: fascinating Tasmanian Eucalyptus wood, handcrafted steel and luxurious fabrics.
Each piece in the collection, such as tables, armchairs, sofas and all the other furniture, has been created to express a distinctive and unmistakable style, offering the best of made in Italy excellence.
Moonlight sofa is a testament to innovative design, synonymous with quality, comfort, and absolute beauty. The quilted back and armrests add a touch of sophistication, while the metal band in the armrests provides a modern and sleek aesthetic to the sofa.
Meticulously crafted, the armchairs and the occasional chairs complete the setting: their fine fabrics and leathers create original patterns, highlighting the sculptural shapes and the intricate details of these pieces. Moreover, the structure of Moonlight showcase creates a visually dynamic composition, captivating the eye from every angle.
Moonlight modular sofa is the ideal solution to fit your living space with versatility and functionality, allowing various configurations and compositional possibilities.
The collection also offers an array of exquisite complements and accessories that embellish the living room with impeccable style and sophistication, like the TV unit, the precious marble ashtray, and captivating artworks.
Bar stools realized in satin grey nickel stainless steel are perfect pieces to create a welcoming and exclusive corner in your house.
Side tables and cocktail tables complete the living area, blending exquisite fine wood with sleek stainless steel, resulting in charismatic designs. These intriguing pieces ensure functionality and artistry, adding a touch of contemporary refinement.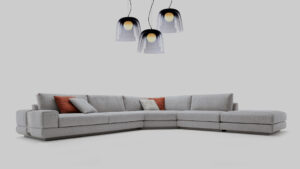 Moonlight modular sofa is the protagonist of the living area thanks to its versatile luxury. This sophisticated furniture piece allows for a customisable design experience thanks to its different types of modules.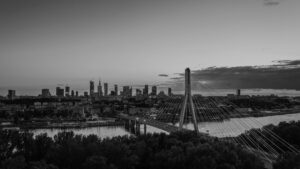 We are delighted to unveil an exquisite private project in Warsaw. Giorgio Collection's luxury meets the design intuitions of Magdalena Wierzbicka to furnish a prestigious villa, where every details speak the language of refinement.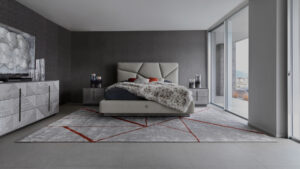 Moonlight bedroom expresses the perfect combination of fine materials, attention to detail and Italian craftsmanship, values that have always distinguished every Giorgio Collection products.