Moonlight dining room is the perfect symphony of refinement, precious materials and elegance. It is made up of a selection of furniture designed to emphasise the crucial role of dining spaces in luxury homes, thanks to its unique, contemporary style. The pure beauty of Moonlight rectangular table immediately catches the eye. The intricate design of the base, reminiscent of moonbeams, is combined with a top made from an inlaid tasmanian curly eucalyptus veneer with a high-gloss polyester finish. Surrounding the table, Moonlight chairs add a touch of charm and luxury to the room: upholstered in the finest leathers and fabrics, these pieces offer a balance of aesthetic beauty and comfort, suiting perfectly into a fascinating atmosphere.
The dining area is enriched by exclusive fine furniture: each piece, with its unique design, serves as an exquisite element to make a luxurious space truly remarkable.
Moonlight vetrine, featuring two glass doors, is made of eucalyptus veneer: this combination of elements, together with the satin grey stainless steel base and handles, contributes to its contemporary style. The symmetrical balance of Moonlight buffet underlines its modern appeal, embodying the luxurious Giorgio Collection's taste and elegance.
Completing the setting is a versatile yet precious furniture: Moonlight consolle. With its refined and minimalistic design, this element fits impeccably into the atmosphere of the room. Meticulously crafted from precious woods, its curved legs are enriched with grey stainless steel details, enhancing the piece's inherent exclusivity.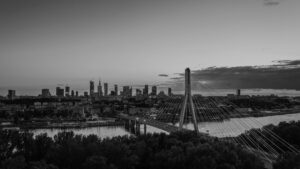 We are delighted to unveil an exquisite private project in Warsaw. Giorgio Collection's luxury meets the design intuitions of Magdalena Wierzbicka to furnish a prestigious villa, where every details speak the language of refinement.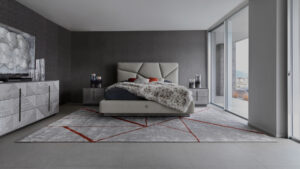 Moonlight bedroom expresses the perfect combination of fine materials, attention to detail and Italian craftsmanship, values that have always distinguished every Giorgio Collection products.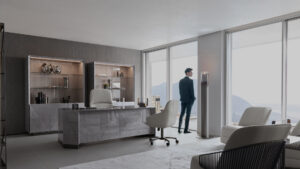 Moonlight office stands out for its exclusive furniture, characterized by a clean, contemporary design and balanced geometries.
The presidential desk, crafted with inlaid tasmanian curly eucalyptus veneer with high gloss polyester finish, provides with its refined top and drawers on each side a functional and ample workspace.