From ancient history to contemporary design
In the heart of Rome, Teatro Marcello is one of the most ancient buildings in the city, a witness of a very distant and precious era for the history of civilization. Built in 17 b.C and dedicated to the memory of the grandson of Emperor Augustus, it has been restored and expanded over the centuries.
Within its walls full of history, Teatro Marcello hosts some of Giorgio Collection creations: a contrast between ancient and modern style that releases a suggestive atmosphere in the whole environment. The Mirage sofa, upholstered in blue velvet, together with the coffee table from the Charisma collection, stand at the center of the main area, playing a game of contrasts with the ancient style of the building and at the same time creating an extremely harmonious effect. The mix of contemporary design and ancient architecture is the symbol of a beauty that crosses the boundaries of different eras.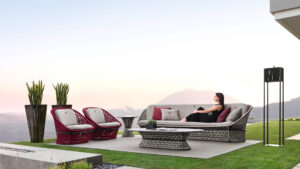 Dune is our latest outdoor collection presented at Salone del Mobile. Designed by Castello Lagravinese Studio, it has been conceived to extend and decline our concept of luxury furniture to the outdoor environment.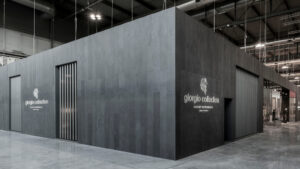 During the 61st edition of Salone del Mobile in Milan, Giorgio Collection presented two new collections: Moonlight indoor and Dune outdoor.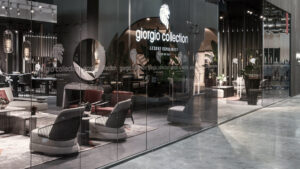 Giorgio Collection has been participating at Salone del Mobile since the first edition, always proposing the best of Made in Italy design and innovative products. Protagonists of this year's exhibition were the new Moonlight and Dune and the most iconic collections of the brand.