The modular sofa from the Vision collection is composed of central, lateral, and ottoman modules, all fully upholstered in first quality leather, nubuck leather, velvet, or suede fabric. Each module features a structural curvature, which allows the creation of a suggestive and scenographic composition, perfect in the center of the room and for bespoke solutions.
The low and wide armrests offers the entire structure balance and harmony, ensuring total comfort. The simple and rounded lines of the sofa allows to create a sophisticated design and timeless elegance.
The precious materials that characterize the sofa and the entire Vision collection express the refined elegance and craftsmanship of Giorgio Collection.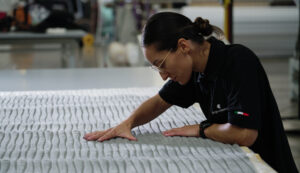 The pursuit of perfection is a priority at the heart of our production process. This commitment to excellence is recognisable in the meticulous craftsmanship that gives shape to each piece in our collections.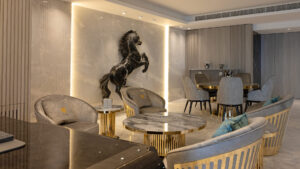 We are delighted to introduce you to our exclusive residential project: a luxury penthouse in one of Riyadh most exclusive area, where Infinity and Charisma collections are the unquestioned protagonists.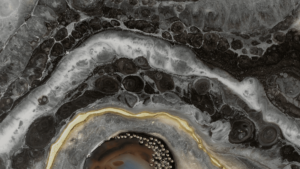 In the world of luxury design, details make the difference. Paintings are prestigious elements, statements of culture and sophistication that catch the eye and celebrates excellence. Giorgio Collection believes in the inspiring power of art and is proud to introduce the extraordinary works of Nadezhda Olefir to its selection of fine arts.