The Giorgio Collection luxury bed selection features comfort and style as main characteristics. Made with the best quality materials, Giorgio Collection beds ensure optimal rest and give the bedroom a luxury and refined style. Each collection offers a bed with a different attitude, thanks also to the wide choice of fabrics, shapes and quiltings. The precious materials such as nubuck, leather or suede envelop the beds, accentuating the craftsmanship and the original design. The details are what most enhance each Giorgio Collection bed, such as the decorative motifs and padding used for the headboards, or the shiny chromed metal elements used for the footboards and legs. Each bed is an expression of style that finds the perfect balance between comfort and luxury, creating a magical and welcoming atmosphere in the bedroom.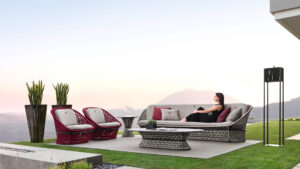 Dune is our latest outdoor collection presented at Salone del Mobile. Designed by Castello Lagravinese Studio, it has been conceived to extend and decline our concept of luxury furniture to the outdoor environment.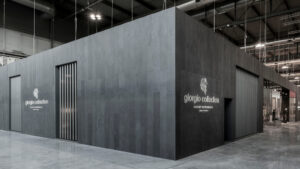 During the 61st edition of Salone del Mobile in Milan, Giorgio Collection presented two new collections: Moonlight indoor and Dune outdoor.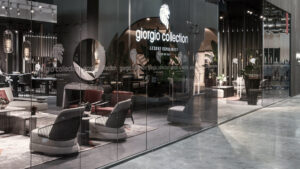 Giorgio Collection has been participating at Salone del Mobile since the first edition, always proposing the best of Made in Italy design and innovative products. Protagonists of this year's exhibition were the new Moonlight and Dune and the most iconic collections of the brand.