A refined ambience is made up by the perfect balance between all the objects that are part of it. The harmony of the new Mirage living room is dictated by simple and linear shapes, made unique by the hexagonal quilted pattern. The special stitching that covers the sofa's back and armrests, the Valerius carpet and the armchair, evokes suggestive tactile sensations and it becomes the common thread of the entire living room collection.
Whether it is leather or fabric, the special texture makes the Mirage total look a refined and unique environment where all the different elements blend together. The combination of high quality materials and original design is the perfect solution for the ultimate contemporary home.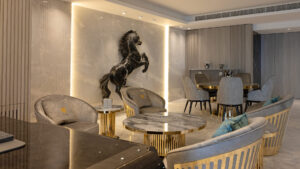 We are delighted to introduce you to our exclusive residential project: a luxury penthouse in one of Riyadh most exclusive area, where Infinity and Charisma collections are the unquestioned protagonists.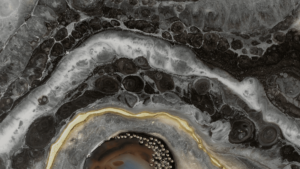 In the world of luxury design, details make the difference. Paintings are prestigious elements, statements of culture and sophistication that catch the eye and celebrates excellence. Giorgio Collection believes in the inspiring power of art and is proud to introduce the extraordinary works of Nadezhda Olefir to its selection of fine arts.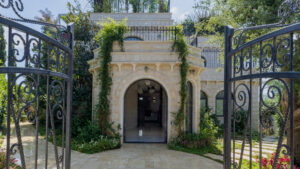 Giorgio Collection furnishes the most prestigious villas around the world with the quality and style of its products. Skilful combinations of elements from our iconic collections are the protagonists of this bespoke project: from the indoor to the outdoor spaces, each settings is embellished with the unique design and striking shapes of our creations.